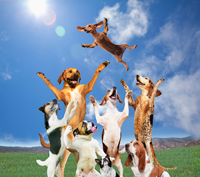 About Nicoline van Veldhuizen
Nicoline has studied behavioral therapy for dogs and joined several seminars and workshops with well known specialists.
 Nicoline van Veldhuizen has worked with dogs in different fields for decades:
– Rehabilitating and re-homing problematic dogs;
– Stray-dog castration projects abroad as a dog behaviorist: observing and catching dogs and providing medical care to ultimately releasing them in their natural habitat.
– As a volunteer at animal shelters and at the Dutch Animal Protection.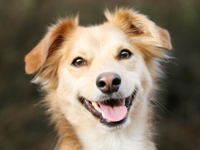 Uitlaterette dog walking service The Hague
– The dog walking team exists of Pim, Willemien (special puppycare) and Nicoline.
– Daily pack walks in dog-friendly locations (beach, parks or forrest);
– The ultimate exercise for your dog, giving it an excellent socializing break with other dogs;
– Balanced pack of dogs and professional guidance;                                                                                                                                              
All dogs should be tolerant to each other and capable to abide by rules (we don't want to be a nuisance to others). If your dog is (not yet) capable of doing so, it will be our pleasure to help.
We have divided the area's of The Hague so that the dogs will be in the van for only for a short while.
Dog walking fees
3 walks per week: € 150,00 per month
4 walks per week: € 190,00 per month
5 walks per week: € 240,00 per month
Second dog from the same family: 25% discount.
 Transport
In a big, well ventilated bus. Short routes which means your dogs will be in the bus for just a short time.
Daycare, puppy, dog pension and in-home boarding service possible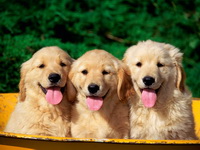 In-house training & daycare
If you are too busy or otherwise not able to train with your dog there is the possibility to leave him at my house for one or more days. This gives me the opportunity to work intensively with your dog. He/she will also be coming along for walks with my pack of dogs, which gives me a good indication of its social abilities. Your dog will have the time of his life and for you it'll be a pleasure to welcome him back well trained, happy and balanced. Afterwards I will teach you how to maintain this learned behavior.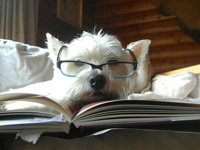 Dog behavioural advice / dog behavioral therapy / dog behaviour problems
Behaviour problems in dogs can appear in all stages of it's life and sometimes has enormous impact on yours.
Before we start I listen to your complaints and wishes. By observing you and your dog together, his role at home and how he acts I make an estimate of what we can accomplish. A single session can be enough to fix the problem.
Behavioural consultation and therapy services, fee: € 90,00 per consult (about 2 hours).
* Take your dog to the vet first to make sure the problems are not caused by an illness or medical condition.
Workshops
Workshop 'Improving the energetic relationship between you and your dog'
(Kees van Amersvoort & Nicoline van Veldhuizen)
First we will make sure you are in an emotionally stable state of mind. You get the chance to reload your own battery and get rid of the stress that your dog is instinctively responding to. Subsequently we will provide you the knowledge to understand your dogs behavior. That knowledge is needed to effectively work and communicate with your dog in a way that your dog is able and willing to see you as his leader. You will be able to bond with your dog in a way you never expected!
The training method is intuitive and effective working with the dogs instincts rather than against them. Your dog will perceive it as a simple pack cooperation and will quickly shed off any of his rebellious behaviour. You will enjoy the confidence how to gently handle your dog in all situations and gives you more focus you imagined possible!
Workshop 'Improving your dog's emotional balance and behaviour'
(Nicoline van Veldhuizen)
This workshop is mainly practical and is based on the problematic behaviour of your dog in specific. We will intensively work in uncontrolled situations: streetwalks on leash, on the beach off leash. The method is about finding out what motivates the dog to the point he is willing to work with you. It's all about trust, your dog quickly sheds of his rebellious behaviour and will be happy to cooperate with you as his guide.
Testimonials
Nicoline is someone who understands how dogs think and that makes her the ultimate dog whisperer.

Kees van Amersvoort
There is a big difference with my previous dogwalker. Nicoline not only walks the dogs, she works with them in a way that every dog gets to be a part of the pack. My dog used to make her own plans and behaved rather strange, she wasn't sociable at all. Nicoline worked with her, now she is a real member of her pack and became a sociable dog! Nicolines advises have shown to be of high value to me.

Yvond van Gent Snelder
Uitlaterette is run by Nicoline van Veldhuizen and she is the dutch Dog whisperer. We have two very lovely but stubborn male labradors and they love her to death as she challenges them physically and mentally which they enjoy a lot. Furthermore she has an excellent knowledge k9 behavior and is a perfect coach may you have issues with your dog or when your dog has issues with your self. All the best for the Uitlaterette and Nicolien.

After looking long and hard for our dog Pax we finally ended up at Nicolines Uitlaterette. We didn't want to give him to just any dogwalker that just makes a round through the park so his stay in the bus would be longer then his time in the forest. He is being picked up in the morning and comes home all exhausted somewhere in the afternoon. Sometimes they walked at the beach, another time in the forrest.

Pax is a Portugese streetdog with a high temperament so he needs (besides me) a strict leader which is no problem at the Uitlaterette. Unwanted behaviour is not tolerated and Nicoline immediately corrects that. Dogs go out with her, not the other way around.

Whenever I meat Nicoline I see only happy dogs and so is Pax, so happy to meet her and his friends!

As an entrepreneur I often have to go to a last-minute job, one call to Nicoline is enough. Flexible, very reliable and always does as agreed upon.
In other words, recommended for who only wants the best for his dog."Nicoline has been our dog walker since 2007 and I wouldn't know what to do without her. She is reliable, kind and very helpful. She always walks our dogs for at least 1,5 to 2 hours, if not more! When it comes to our dogs behavior, she is knowledgable and always is willing to take her time to explain things to us, guide us and support us, even in the weekends. I can truly recommend Nicoline!

Rutger de Ruiter

I contacted Nicoline immediately when I moved to The Hague because our giant chihuahua Charly had several issues. He was aggressive and not relaxed with other dogs and the biggest issue was that he was barking all day. Nicoline helped us to understand Charly's behaviour and she took him to her place for 4 days to correct his barking issue. When my dog came back he was happy, relaxed and he did not bark anymore. So everyone was happy. We had another dog trainer before, but Nicoline 's work and results were outstanding. I can highly recommend her to anyone who wants a happy dog, a good educated dog who listens to you and who does not bark all the time. Lesson learned and we are more than happy that our dog is not leading our life anymore. Thank you very much for everything! We still have Charly in her walking groups and our dogs stays overnight at her place if we are traveling or on holiday. Perfect service!!!
Nicoline has been our dog walker since 2007 and I wouldn't know what to do without her. She is reliable, kind and very helpful. She always walks our dogs for at least 1,5 to 2 hours, if not more! When it comes to our dogs behavior, she is knowledgable and always is willing to take her time to explain things to us, guide us and support us, even in the weekends. I can truly recommend Nicoline!

Alice Kocourek
Nicoline is a very motivated and involved dog behaviour specialist, with a thorough knowlegde of the nature of dogs. She delivers excellent services (dog walks, analyses of behaviour, advice etc.). I can warmly recommend her.

Brigitte Kimman
Having just moved to Den Haag, we were so delighted you could take our Buzz within a short notice as you were fully booked! Thank you again for your assistance and your great knowledge in dog psychology for teaching our puppy his best behaviour. Your advice helps us a lot how to deal and understand Buzz. We trusted you and we were right to do so. All the best.

Mr. & Mrs Sayer

Please visit the Facebook page for more reviews.